Home

›

News & Events

›

News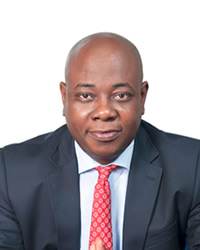 CEO's New Year Message
Dear colleagues,
Happy New Year to you all.
2018 was quite a year for all of us at Allied full of ups and downs. For our ups, I can say we streamlined our operations, which helped shore up our liquidity position. One major action included the halt in expansion program. For this reason, we developed only one (1) station and also renovated one (1) station.
The downside of the year was the intense competition in the industry which saw OMCs embarking on some aggressive marketing drive i.e. promotions and campaigns. Some OMCs also resorted to predatory pricing to counter the effects of the promotions. These resulted in the erosion of margins thereby affecting profitability.
The year also witnessed low sales as a result of illegal products on the market we therefore missed our sales forecasts. Coupled with that was the high cost of fuel. For the first time fuel prices hit and crossed the five-cedi mark.
For 2019, we will push forward with our medium term plans and we believe strongly that we can achieve planned targets.
The New Year gives us the opportunity to work together as a team towards a common goal and achieve great results.
May the best of our abilities show in 2019 and the coming years.
Thank you.